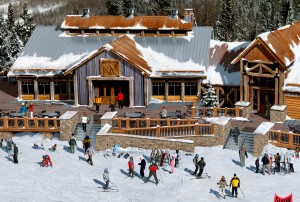 Nestled in a pictorial valley of Summit County, Colorado, lies the best vacation resort; Keystone. It is marvelous and spectacular valley which is truly a magnificent creation of nature. Keystone is a vacation resort round the year. Be it summer or winter, Keystone is always thronging with tourists who come to Keystone to have an excellent vacation. Keystone is a family vacation resort so the great thing is that you can visit Keystone with your kids and have tons of fun. Famous for being a ski resort, Keystone has equal well-reputation for being an awesome summer vacation resort. Keystone is divided into five areas; East Keystone, River Run Village, Mountain House Base Area, Keystone Ranch and Lakeside Village. Each area has its own attractive features and catches the attention of the tourists.
In summer you can enjoy yourselves a lot in Keystone. Enjoy mountain biking downhill Dercum Mountain after having an exciting gondola ride to the top of this spectacular peak. Have tons of fun river rafting, canoeing, swimming and fly fishing in the Keystone Lake. The Snake River runs adjacent to the lake and a trail is laid down beside the shore on which you can walk, jog and ride a bike while enjoying the epic natural scenery. In winter have a thrilling experience of ice-skating on the same Keystone Lake when it freezes. You can enjoy skiing, snowmobiling, and sleigh rides down the Dercum Mountain in winter and if the day time snow activities are not enough for you then here is great news you! You can enjoy night skiing in this amazing resort as well. So visit Keystone and have the best vacations of your life.
After your flight lands at the Denver Airport, Keystone is easy to reach with the help of transport service provided to the tourists by a large number of transport facility providers nascent in the area. These companies provide transportation from Denver Airport to Keystone as per the requirement of the tourist. Shuttles, buses, cabs and cars; all are available for the ease of the visitors so that they can avail transportation from Denver Airport to Keystone.
Car Service Denver is also a transport facility provider that serves the tourists and visitors by providing them transport from Denver Airport to Keystone. After having spent 14 remarkable years of service to our prestigious clients, Denver Luxury Car Service offers you transportation from Denver Airport to Keystone through its armada of cars that are always ready to be sent for your service. Denver Luxury Car Service provides you transport from Denver Airport to Keystone through our DIA cabs, DIA shuttles and DIA luxury limousines. Our cars are the latest ones with up-to-date technology and driven by the best road navigators who truly are the pilots of roads. Our automobiles are comfortable and will make your journey a pleasurable one. Be it our shuttles, Taxi , cabs, cars, buses or the grand fleet, we are always at your service with the vehicle of your choice at your desired time and destination. Our company works on both advance booking and on-the-spot booking mode.
Denver Luxury Car Service is proving you with the best service which makes it the most sought name in the industry. It is our dedication and full commitment to the customer which makes us their forever choice whether it is transportation from Denver Airport to Keystone, from Keystone to Denver Airport or any other areas from these two destinations. We are serving you from past 14 years with professional excellence and will carry on doing the same, providing you with a transport service that will give you ease of access.
Transportation Services to and from Keystone Ski Resort – 303-523-5553
Enjoy all of the fantastic outdoor activities in the closely grouped villages of Keystone ski area, with out the worry of transportation to and from DIA with 007 Airport Limo Denver! We have been providing the highest quality luxury shuttle transportation services from Denver to Keystone and all of Colorado's favorite ski towns for almost two decades.
We solve a very specific problem; the Denver Airport is hours from Keystone, and you need to get from DIA to your Colorado vacation destination. When you land at DIA, wouldn't it be great to have a pristine town car or SUV there to take your safely up to your vacation destination in Keystone? With 007 Airport Limo Denver, that's exactly what you'll get.
What Makes 007 Airport Limo Denver Your Best Choice?
007 Airport Limo has been serving the shuttle and transportation needs of the people of Colorado for more than 16 years. Our dedication to providing industry leading customer service, and unmatched reliability and safety has afforded us that longevity. Our friendly drivers will always be courteous, safe, and professionally attired and we will act with integrity in everything that they do. We are completely committed to providing the best transportation services to and from Aspen  and throughout the wonderful state of Colorado.