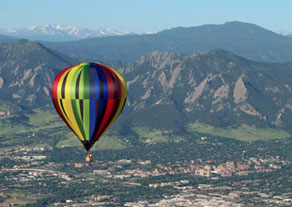 Boulder has been dubbed "the city nestled between mountains and reality", and it is easy to see why with its charming city sprawling on the foothills of the Rocky Mountains. Boulder has received many praises and titles over the years because of its culture, business, recreation opportunities and the city environment. In 2010, Boulder was dubbed the Happiest and Healthiest City. In 2009 Boulder was number 1 in the Top Chef category (Hosea Rosenberg), number 1 in "America's Top 25 towns to live well" by Forbes, among the Ten Top Wine Destinations. and many such titles were awarded to Boulder throughout these years. Boulder offers many activities and exciting events all throughout the year which make it a popular vacationing spot for tourists all over the country as well as from abroad.
When in Boulder you can visit BookCliff Vineyards Tasting Room, Andrews Arboretum, Boulder Creek Path, Boulder Falls, Farmer's Market, Boulder History Museum, Boulder International Film Festival, Museum of Contemporary Art, Gateway Park Fun Center, Historic Downtown Boulder and Pearl Street Mall along with a host of other such places worth seeing, which would provide you with the ideal vacation.
Getting to Boulder is as easy as anything. Located at a distance of only 29 miles and half an hour's drive away from Denver, Boulder is within easy access of Denver city, Denver International Airport along with other towns and cities in Colorado located around Boulder. Transportation from the Denver airport to Boulder can be located at the airport as you arrive or can also be booked in advance with one of the car rentals and companies.
It is always advisable to do a little pre-vacation transportation homework from Denver airport to Boulder, within Boulder and from Boulder to other cities to become aware of all the transportation options that you can avail. The transport options can include cabs, town cars, buses, vans and shuttles.
007 Airport Limo Denver has been in the transportation business for over fourteen years and is the leading Denver based car service. Whether you require transportation from Denver airport to Boulder or vice versa, from Denver to Boulder and vice versa, 007 Airport Limo Denver can fix you up with the ideal transportation required for your trip. If you are traveling to Boulder on business purposes then transportation from Denver airport to Boulder does not get any better than hiring a luxury limousine or a sedan for your trip. Taxis and shuttles are another means of transportation from the Denver airport to Boulder whether you are traveling with family or alone. Shuttles are great for transportation from the Denver airport to Boulder when you have the trip planned with family or friends because of all the space that shuttles offer.
Over the years we at 007 Airport Limo Denver have made a name in the transportation industry based solely on our professional and reliable services. Our vehicles are kept spotless and would arrive to pick you as if just out of the manufacturing factory. We have a fleet of town cars, shuttles, vans and cabs available for you to pick for renting. 007 Airport Limo Denver is a resourceful business which means that you would not go unattended even at the shortest notice. All our staff, from bookings to drivers, are professionals, and skilled at what they do. Our drivers are among the best out there and you can be sure of traveling, not only in luxury and quality in our vehicles, but also with the safest drivers on the road.